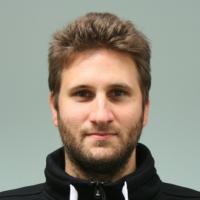 I joined SISSA in 2022 as a Marie Skłodowska-Curie Fellow where I am investigating the 
interaction between time perception and motor learning through EEG and psychophysical methods. 
I received an MSc degree in Experimental Psychology (2007) and a PhD in Cognitive Neuroscience (2011) 
from the University "La Sapienza" in Rome. I moved to University College London in 2012, first at the Institute of Cognitive Neuroscience (ICN) with a 
Newton International Fellowship awarded by the Royal Society working on time perception and motor control, then as a Research Associate at the Department of Experimental psychology investigating timing computations underlying social cognition. I then joined the
 UCL Interaction Centre as part of a 
multidisciplinary EC-funded Human Manufacturing project 
aimed at assisting factory assembly work through eye-tracking and Augmented Reality systems, in partnership with Airbus and Comau (FIAT). I additionally worked at Queen Mary University of London investigating
facial expression representation and recognition through evolutionary algorithms.